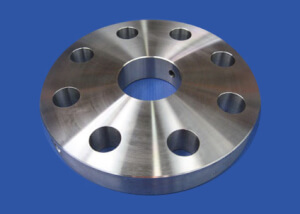 Size Range: 15mm- 1500mm (1/2"-60")
Ratings: 150lb-2500lb to suit ASME B16.5
Sealing Type: Flat Face, Raised Face, Ring Joint
Sealing Finish: Spiral Finish 3.2-6.3µm for facings
Ports: Socket Weld, Threaded, Flanged
Materials: A516 GR70, AS1548-PT460 (NR), A105, LF2, 304/304L, 316/316L, UNS31803. Other materials on request
Delivery 5-10 days.
Also called: Bleed Rings, Bleed Rings with holes, Test Inserts, Drip Rings, and Flushing Rings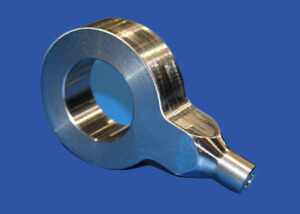 Bleed Rings are simply a spacer that allows access to the fluid flow. They may have bolt holes or be a wafer style that is clamped between the flanges.
The ports are either socket weld machined in the ring.
Tapped port
Flange fitting
There are many variations but 4 main types cover the range.
Ring style 1 or 2 ports
Ring with Bolt holes with 1 or 2 ports (as illustrated above)
One piece with extension illustrated
Flanged style
Dimensionally these devices are usually made to suit ASME B16.5 and are often 38mm thick.
Bleed Ring Stamping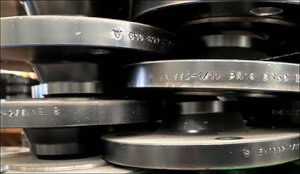 Typically a Bleed Ring will have stamped on it the size, rating, standard, material, heat number, Caman Engineering Stamp and production traceability code.
Many clients ask to have their own part identification and process traceability stamped on the Bleed Rings.
Bleed Ring Standards
Caman Engineering manufactures Bleed Rings in Australia for a variety of industries. The most commonly used standards that a Bleed Ring has to match up to is ASME B16.5 but it can be made to suit most of the flange standards.
Other standards exist and Caman Engineering are able to rapidly manufacture Bleed Rings to comply with these standards or company specific drawings.
Bleed Ring Sealing Facings
Typically Bleed Rings are produced as a flat face, raised face or ring joint sealing surface depending on the application requirement. The spiral sealing face is a specified finish typically Ra 3.2µm-6.3µm.
Bleed Ring Materials
As an Australian manufacturer Caman Engineering are able to manufacture the Bleed Rings in a material with the testing as required by the client specification. Typically Bleed Rings will be manufactured from carbon or stainless steels. Typical carbon steel materials are AS1548 460NR, A516 Gr70 or forgings like A105, A350 LF2, A350 LF3. In corrosion resistant materials A240 P316L, A240 P304L, UNS31803 are common. Less common but easily supplied is Super Duplex 2205 and Incoloy 625.
Additionally, specialist finishes are available such as galvanising, PTFE coatings and linings and various epoxy finishes.
Corrosion Protection and Packaging
A Bleed Ring will always have 2 sealing faces and at least one port so significant sealing face protection is required.
Whether you want the Bleed Rings protected for 2 weeks or 2 years, Caman Engineering have packing systems that ensure the Bleed Rings arrive at the installation in good condition ready to be installed.
Even more robust corrosion protection can be supplied upon request.
Bleed Rings - Special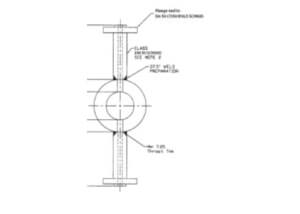 Sometimes a specific engineering requirement may dictate the need for special material and construction required to produce the Bleed Rings. Caman Engineering are a manufacturer with full ISO 9001 certification and are able to produce to your requirements including detailed testing and documentation. All material is traced through the system and ITPs, Weld Procedures and MDRs are available on request. Your Bleed Rings can be packaged according to your engineering or project specification and all this can be done with remarkably short delivery times.
This drawing shows a fabricated, flanged Bleed Ring supplied with approved weld procedures.