Caman Engineering has invested heavily in modern computer controlled machines to enable us to remove metal quickly, while maintaining the finishes and tolerances demanded by the flange industry. Quality is paramount to all aspects of our manufacturing facility. The management system is accredited to ISO 9001:2015 and all aspects of the flange manufacturing process are controlled and monitored under this accreditation.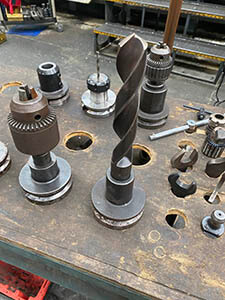 Facing a large fabrication
Components and flanges that are made locally are often paired with flanges or parts from various locations in the world. Flanges from disparate sources must match and work as required so the comprehensive instrument calibration system used at Caman Engineering tracks and maintains the accuracy of every measuring instrument. This instrument calibration is the vital tool that guarantees that flanges fit every time. This includes items such as vernier callipers, micrometers, rulers and thread gauges.
Most importantly the staff that operate these machines and check conformance are fully trained and familiar with, not only the machines they work on and the instrumentation they use, but the range of flanges, boiler components and pressure devices we manufacture.
Capable machines, calibrated measuring equipment, competent experienced staff and a fully accredited ISO 9001 management system are the key components to Caman Engineering's reputation as a premium specialist flange manufacturer.
Milling Machines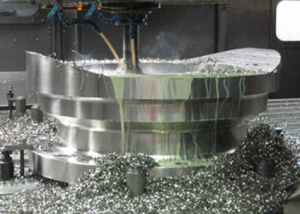 Milling a self reinforced weld neck
These specialised machines mill, drill and tap. We are able to drill 100mm holes up to 300mm deep in stainless material by using the latest cutting technology powered with motors of around 50kw. Large threaded holes can be formed by thread milling. Milling is often required to achieve special shapes, mill grooves and prepare flat faces.
Caman Engineering can mill up to a volume of 3 metres long x 2.5 metres wide by 1 metre high.
Fully automated drilling of holes around a cylinder can be accurately placed by using milling machines that have a CNC indexed, rotating "A" axis. Using a CNC controller this operation can place thousands of holes in exactly repeatable positions with a minimum of operator intervention.
Not every project requires large componentry. Caman Engineering keeps a range of CNC machines and will always have a machine suited for the job.
Lathes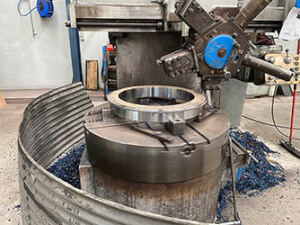 CNC vertical lathe
Caman Engineering machines a range of pressure components which vary from bolts to meeting specific requirements up to blinds over 2 metres. We use high speed CNC horizontal lathes for the smaller work and our powerful large CNC vertical lathes suit the large heavy flanges. Caman Engineering have a range of these CNC lathes that will handle rings over 2metres and up to 6 tons.
The use of CNC lathes means we can achieve the exact profiles required for many specialized components. Additionally, every item produced will have exactly the same dimensions and profile.
Cranage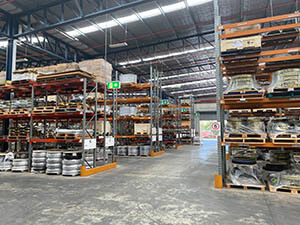 In line with modern manufacturing, machines have their own material handling cranes. Larger overhead facilities, up to 10 tons, are provided to offload from semi trailers.