Size Range : 15mm- 1500mm (1/2"- 60")
Ratings : As described in the relevant standard including ASME B16.5, ASME B16.47, EN1092, AS2129, AS/NZ 4087, API Spec 6A
Sealing Type: Flat Face, Raised Face, Ring Joint
Sealing Finish: Spiral Finish 3.2µm-12.0µm
Materials: A105, A350LF2,LF3,LF6, A694 F42-F70, AS/NZS3678 Gr250 304,316, 2205 (A182 F51), 2207, Incolloy 625 or as requested
Custom items: delivery usually 10-20 days.
Varieties: Weld Necks, Blinds, Slip-ons, Socket Welds, Lapped, Long Weld Necks. See visualise types under technical references to identify which type you will need.
Flange is a generic description used to describe a device that terminates a pipe or device and provides a boltable joint. The application is specific even if the concept is generic. Flanges are predesigned to meet process conditions. Standards exist that provide standardised dimensions and material types.
Flange Types: Weld Neck, Slip-on, Blind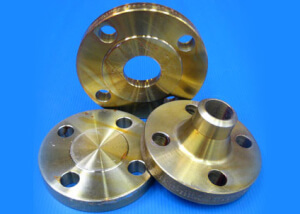 Typical flange types are as follows:
Slip-on Weld (SOW) This flange is slipped over the pipe and a bead of weld placed around the inside at the sealing face and the outside at the neck.
Weld Neck (WN) This flange is attached with a full penetration butt weld to the pipe. It is sometimes called an ASME Weld Neck or ANSI Weld Neck and is very common in ASME B16.5.
Blind This flange terminates the line.
Other types of flanges include: Long Weld Neck, Bossed Blind, Lapped Flanges, Stub Ends, Socket Weld and Screwed. Typical sealing variations include Raised Face, Flat Face and Ring Joint. Different industries tend to be dominated by different standards. The following chart illustrates the industries where the standards are used.
AS2129
Australian Standard
Flanges for piping valves & fittings
A common industrial flange in Australia. Sold mostly with a spiral finish on a flat face. Used in various industries including the food and wine industries for water movement and general industrial fluids.
AS4087
Australian and New Zealand Standard
Metallic flanges for waterworks purposes
Used generally for water supply projects for government sponsored projects. Similar hole spacings to some AS2129 flanges.
ASME B16.5
American Society of Mechanical Engineers
Pipe flanges & flanged fittings
This is the mainstay for most heavy industrial and petrochemical plants. Covers flanges up to 600mm typically supplied with a raised face and spiral finish.
ASME B16.47
American Society of Mechanical Engineers

Large diameter steel flanges

These flanges are mostly found in heavy industrial and petrochemical applications. Covers flanges above 600mm typically supplied with a raised face and spiral finish. Available in A and B type.

BSEN 1092-1
British Industrial Flanges
Flanges & their joints.
Found on DIN pumps and other equipment from Europe and the UK.
NB similar BS4504.
JIS B2220
Japanese Industrial Standard
Steel pipe flanges.
Seen mostly in Australia in ships.
ASME B16.36
American National Standard

Orifice Flanges

These flanges are designed to sit either side of orifice plates for measuring flow. They will typically be supplied with a side port and jacking bolts.

ASME B16.48
American National Standard
Line Blanks
Spectacle Blinds, Fig 8 Blinds, Spades, Paddle Blinds, Spacers.
MSS SP-44
American Manufacturing Standardisation Society
Steel Pipeline Flanges.
Similar ASME B16.47A.
AWWA C207
American Water Works Association
Steel Pipe Flanges for Waterworks.
Some flanges have similar hole spacing to ASME B16.47A.
API 605
American Petroleum Institute
Large Diameter Carbon Steel Flanges
Similar ASME B16.47B.
FLANGES SEALING FINISHES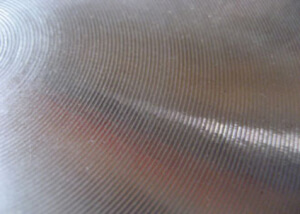 Typically Weld Necks, Slip-ons, and Blinds are produced as a raised face, flat face, or ring joint sealing surface depending on the application requirement. The spiral sealing face is a specified finish typically Ra 3.2um-6.3um.
Australian and New Zealand flange standards specify coarser sealing faces typically Ra 6.4um-12um.
FLANGES - MATERIALS
As an Australian manufacturer Caman Engineering are able to manufacture the spectacle blinds in a material with the testing as required by the client specification. Typically flanges will be manufactured from carbon or stainless steels. Typical carbon steel materials are AS1548 460NR, A516 Gr70 or forgings like A105, A350 LF2, A350 LF3. In corrosion resistant materials A240 P316L, A240 P304L, UNS31803 and A182 F316L, A182 F304L are common. Less common but easily supplied is Super Duplex 2207 and Incoloy 625.
Additionally, specialist finishes are available such as galvanising, PTFE coatings and linings and various epoxy finishes.
FLANGES - Corrosion Protection and Packaging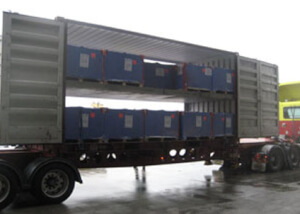 Each flange will always have a sealing face that requires protection. Weld Necks have an additional weld preparation that also requires protection. Whether you want the flanges preserved for 2 weeks or 2 years, Caman Engineering have packing system that ensures that your Weld Neck, Slip-on and Blinds arrive at the installation in good condition. Even more robust corrosion protection can be supplied upon request.
FLANGES SPECIAL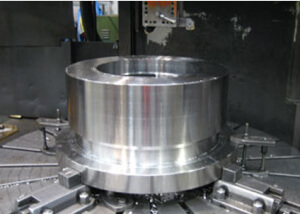 This photo shows the early machining
of a self-reinforced weldneck from
A182 F51 duplex material.
Sometimes a specific engineering requirement may dictate the need for special material and construction type required to produce the Weld Neck , Slip-on or Blind flange. Caman Engineering are a manufacturer with full ISO 9001 certification and are able to produce to your specifications including detailed documentation and testing.
All material is traced through the system and ITPs and MDRs are available on request. Your flange can be packaged according to your engineering or project specification and all this can be done with remarkably short deliveries.