Size Range: 15mm- 1500mm (1/2"- 60")
Ratings: 150lb-2500lb to suit ASME B16.5
Sealing Type: Flat Face, Raised Face, Ring Joint
Sealing Finish: Spiral Finish 3.2-6.3µm for facings
Materials: A516 GR70, AS1548-PT460 (NR), A105, LF2, 304/304L, 316/316L, UNS31803. Other materials on request
Custom items: Delivery usually 10-20 days
Also called: Line Blinds, Spacers and Blanks, Paddle Blinds, Spade Blinds
Spade and Spacers are part of a family referred to as Line Blinds. Jointly they perform the same function as a Spectacle Blind as essentially a simplistic valve. The Spade or Spacer is fitted in the line between two flanges and is bolted in place. The Spacer is used when the line is required open and the Paddle Blind or Spade is installed when the line is required blocked or closed. To change it from open to closed, only half the bolts need to be removed and the Spade or Spacer is swapped over. The removed bolts are then installed and tightened. The handle protrudes from the pipe and provides an indicator of whether a Spade or Spacer is installed.
For smaller Spades and Spacers it is common for the Spacer to have a hole in the handle and the Spade or Paddle Blind to have no hole. For larger sizes Spectacle Blinds can be very bulky and occupy a lot of space so Spades and Spacers are preferred.
It is used usually for maintenance when it is required to isolate a section of pipe or isolate a device. Because this is a semi-permanent isolation it is very safe and safety is often the mentality behind the use of a Spade and Spacer in maintenance operations. Compared to a valve they are cheap and robust.
Spades and Spacers - Identification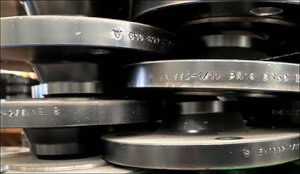 Typically a Spade and Spacer will be identified by the word "SPADE" or "SPACER" stamped on the handle, to clearly indicate what is in the line. Additionally it will be clearly marked with its size, rating, standard, material, heat number, Caman Engineering Stamp, and production traceability code. Many clients ask to have their own part identification and process traceability stamped on the Spade and Spacer.
Spades and Spacers - Handles
The handles provided on Spades and Spacers vary according to function, project specifications, site preferences and assembly weight.
Where the pipes are lagged there may be a requirement for longer handles so they protrude past the lagging. Sometimes a lifting attachment on the Spade or Spacer is required as the larger sizes can exceed 25kg. This attachment may be put on the handle or additional to it.
On some sites there is a requirement that it is obvious whether a Spade or Spacer is in the line. For these sites the Spade and Spacers are fitted with handles with visually obvious indicators.
Spades and Spacers - Standards
Caman Engineering manufactures Spade and Spacers in Australia for a variety of industries. The most commonly used standards are ASME B16.48 (similar to the API 590) which covers Spade and Spacers for pipes up to nominal bore of 600mm depending on the pressure class. This standard refers to B16.5 which provides the dimensions for the mating flanges.
Other standards exist and Caman Engineering are able to rapidly manufacture Spade and Spacers to comply with these standards or company specific drawings.
Spades and Spacers -Sealing Faces
Typically Spade and Spacers are produced as a flat face, raised face or ring joint sealing surface depending on the application requirement. The spiral sealing face is a specified finish typically Ra 3.2µm-6.3µm.
Spades and Spacers - Materials
As an Australian manufacturer, Caman Engineering are able to manufacture the Spades and Spacers in a material with the testing as required by the client specification. Typically Spades and Spacers will be manufactured from carbon or stainless steels. Typical carbon steel materials are AS1548 460NR, A516 Gr70 or forgings like A105, A350 LF2, A350 LF3. In corrosion resistant materials A240 P316L, A240 P304L, UNS31803 are common. Less common but easily supplied are Super Duplex 2205 and Incoloy 625.
Additionally specialist finishes are available such as galvanising, PTFE coatings and linings and various epoxy finishes.
Spades and Spacers - Corrosion Protection and Packaging
Each Spade and Spacer will always have 2 sealing faces so significant sealing face protection is required. Whether you want the Spade and Spacers protected for 2 weeks or 2 years Caman Engineering have packing system that ensures that Spade and Spacers arrive at the installation in good condition. Even more robust corrosion protection can be supplied upon request.
Spades and Spacers - Special
Sometimes a specific engineering requirement may dictate the need for special material and construction type required to produce the Spade and Spacers. Caman Engineering are a manufacturer with full ISO 9001 certification and are able to produce to your requirements including detailed testing and documentation. All material is traced through the system and ITPs and MDRs are available on request. Your Spade and Spacers can be packaged according to your engineering or project specification and all this can be done with remarkably short delivery times.